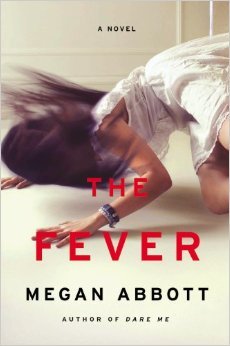 The Fever
Megan Abbott
2014
Little, Brown and Company
First lines:
"The first time, you can't believe how much it hurts."
[[No, they're not talking about that, although they could have been!!]]
Quick, nonspoilery summary:
One day, during class, Deenie Nash's best friend Lise has a seizure. The next day another girl experiences a strange episode, and suddenly the rumors and speculation are flying. The novel is told from the perspective of the Nash family: Deenie, her older brother Eli (also in high school), and her father Tom (a teacher at the high school). It was inspired in part by a real outbreak in an upstate New York high school. You can find a link to that story on
Megan Abbott's website
.
My thoughts:
I didn't love this book, but I thought it was very interesting. The shifting viewpoint was hard to follow at times. I read an advance e-galley, so I don't know if the actual book is set up the same way, but I imagine it is pretty close.
The town and the characters and the hysteria that ensues (or hysterias really even if that's not a word) are captured well. I could believe that I was reading about real teens and a real parent. Their inner lives felt authentic to me. I even thought the town name was perfect, and the lake with its strange water was a great addition.
When I try to think about this book, there is just so much content packed in here: vaccination concerns, environmental issues, teens, sex, and attitudes towards teens and sex and girls who have sex versus boys who have sex (hello, slut-shaming!), group mind, hysteria.
There were things I didn't like. I had a hard time with Gabby's character in particular. I can't really say why, but she just felt less authentic to me, like a device in the story more than a person. Skye too.
But Deenie and Eli in particular just nailed it for me. The teen experience.
I think this would make a great book club book, especially if your book group is good at using a book discussion for launching a wider discussion about society and social issues. Plus, you all would have read the book (in theory), so you wouldn't have to tiptoe around spoilers!
Rating: Read.
If you like
The Fever
by Megan Abbott, you might also like
Speak
by Laurie Halse Anderson (YA) or
Prep
by Curtis Sittenfeld (not YA). I am strongly tempted to also recommend a couple classics here,
The Scarlet Letter
by Nathanial Hawthorne or "The Yellow Wallpaper" by Charlotte Perkins Gilman, or even a book by the hugely popular John Green,
Looking for Alaska.