Since my last review update, I've finished 10 books! They include 6 books for adults, 1 YA, and 3 juvenile fiction.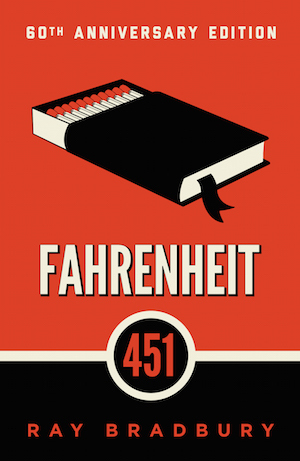 Fahrenheit 451
by Ray Bradbury was originally published in 1953. This was a re-read for me. Our library is hosting a variety of events around Fahrenheit 451 this spring, and I wanted to participate.
I think everyone is probably already familiar with the story. Firemen no longer put out fires, but now they start them. People spend their free time watching large screen TVs, and books are considered dangerous. Guy Montag is a fireman, but something is starting to change on him when he encounters his neighbor on the street.
The book felt more dated than I remember it being when I first read it as a teenager, but still relevant. I really enjoyed the supporting materials in the edition that I read, which included in introduction by Neil Gaiman, essays and reviews, and more.
Highly recommended
.
All the Birds in the Sky by Charlie Jane Anders was published in January. It is her first novel. All the Birds in the Sky is the story of two childhood friends: Patricia Delfine and Laurence Armstead. They meet in middle school where they are both outsiders. Laurence is a computer whiz whose parents want him to spend more time outside, and Patricia initially serves as his alibi. They separate before middle school is over with Laurence set to attend a math and science high school and Patricia going to a school for witches. The novel jumps over most of their high school experiences and picks up in San Francisco when they run into each other again. It then follows them for several years as Laurence works on secret science projects and Patricia uses her witchy powers to help people. Both the scientists and the witches are concerned with the end of humanity and how to prevent it.
For someone who would say that sci fi/fantasy is not my jam (sorry! I can't think of a better word), I read a fair amount of it. I really liked following Patricia and Laurence's stories, and I thought the characters and situations were well-developed. This book reminded me a lot of The Magicians by Lev Grossman, but while I found that novel a slog, really hating its main character, I enjoyed this one. The Magicians suffered because it ultimately it felt like a novel of male wish fulfillment, while All the Birds in the Sky is an intelligent novel about friendship and humanity and how we face the future. Recommended.
A Brief History of Seven Killings by Marlon James was published in 2014. It won the Man Booker Prize in 2015, one of the most prestigious awards for fiction. It is also almost 700 pages long, written partially in Jamaican dialect with shifting points of view, set over a period of 15 years, and features a large cast of characters. The novel centers around the attempt to assassinate The Singer (Bob Marley) on December 3, 1976, and how that event shaped Jamaica and contributed to the drug wars in the United States in the 1980s and beyond.
It is an ambitious novel, and it works, but it took me at least a third of the book to get into it. It is long, and probably could have been shorter, but the characters that seemed least integral to the story were often the most relatable. I am glad I read it, but it was definitely a project. Recommended.
All Things Cease to Appear by Elizabeth Brundage was published in March. As the novel opens, Catherine Clare has just been murdered. Her husband is the prime suspect. We then travel back in time a few years to witness the events leading up to that day.
This is pretty much a standard literary thriller with a suggestion of the supernatural thrown in. The "who did it and why" part of the story felt very uninteresting to me. I don't want to give anything away, but it feels like it's new fad in thrillers and it's boring to me. I like several of the characters though, and there was enough to keep me reading. During a two hour soccer practice I sat in the car and power read to the end, determined to finish and move on. That's not exactly a ringing endorsement of the novel, and it might be time for me to give up on thrillers for a while. Skim.
Forty Room by Olga Grushin was published in February. An unnamed narrator living in Russia dreams of being a poet when she grows up, but her life doesn't quite turn out as expected when she was young, and she asks herself whether it was a good life.
The idea behind the novel is that the average person inhabits 40 rooms in their lifetime. We visit the narrator in each of her 40 rooms, and see how her life has evolved from her girlhood in Moscow to her adulthood in American suburbia. The novel explores what is means to live a good, full life and what meaning we find in our choices. Life is, after all, full of choices and trade-offs. The author is careful not to take sides but to celebrate the uncertainty. As the novel opens the narrator is an I, who transitions to she, and finally Mrs. Caldwell. It is a brilliant device that highlights the narrator's sense of self and inner conflict. I loved it. Highly recommended.
Bluets by Maggie Nelson was published in 2009. It is a lyric memoir/meditation on the color blue. It is presented as a list of thoughts on color, and life, and the color blue in particular. In particular the author is struggling with a recent break-up that has her feeling "blue", although for her that is not the meaning of blue.
I really didn't have a clear idea of what to expect from this book. I guess I expected something less fragmentary and with more something. I only knew that it was a lyric memoir and that Book Riot had recommended it as the first stop on a
Maggie Nelson reading pathway
. Not wanting to spoil the book, I did not read any of their description. I probably should have. I think I need more narrative. But if philosophical lists that border on poetry sound like something you would enjoy, pick this up.
Skim
.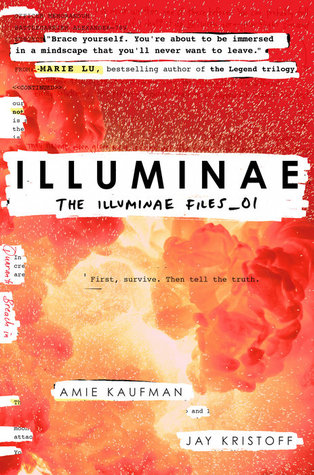 Illuminae (The Illuminae Files, #1) by Amie Kaufman and Jay Kristoff was published in 2015. It is a young adult science fiction novel. The year is 2575, and a mining company has just attacked the illegal mining colony of its competitor. Kady and Ezra are two of the survivors of the initial attack. Now they are aboard two space vessels trying to outrun their pursuers. Oh, and until yesterday, they were a couple.
I expected this to be a run-of-the-mill teenage romance in space. It wasn't. Instead it was so much fun. It is told through excerpts from an investigative report on the attack that was commissioned by the attacking corporation. It includes email and IM transcripts, military files, medical reports, and more. If this sounds dry, it's not. So Much Fun.
I also read a trio of juvenile fiction over the last couple weeks. While I enjoyed all of them,
Goodbye Stranger
was definitely my favorite. I loved it. It is about a trio of seventh grade girls navigating the new waters of middle school. Because of the subject matter, I would say that this is appropriate for about fifth grade and up, but other people might feel differently. A boy asks one of the girls to send him a picture.
Common Sense Media
(a great resource for parents) rates it 5 stars and 11+.