This week I decided to participate in two Friday memes:
Book Beginnings, hosted by Rose City Reader
, and
Friday 56, hosted by Freda's Voice
.
Currently, I am reading
Ways to Disappear by Idra Novey
.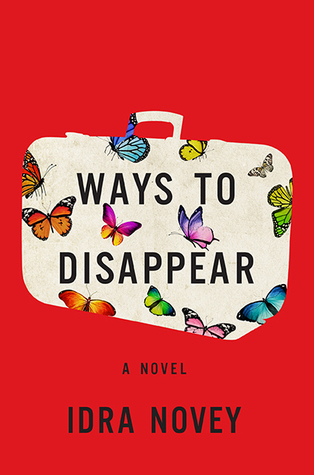 Book Beginning:
"In a crumbling park in the crumbling back end of Copacabana, a woman stopped under an almond tree with a suitcase and a cigar. She was a round woman with a knob of gray hair pinned at the nape of her neck. After staring for a minute up into the tree, she into her cigar, lifted her suitcase onto the lowest branch, and climbed up after it."
P. 56:
"From now on, if I let you go, you will be bleeding."
Oddly, I am on p. 57 of this book right now, so for my Friday 56, I chose the last sentence that I had read on the previous page. It conveys such a sense of menace that is not really present in the book!
...
...
...
...And now for some housekeeping...
Ideally, I would post reviews or some bookish thoughts on Thursdays. Yesterday, I was busy frantically reading the book for my evening parent-child book group at the library that I host. Whoops! I had intended to introduce myself and tell a little bit about my reading preferences.
So, briefly, I am a stay-at-home mom of 2 boys that are both in school now. The oldest is in middle school, while the youngest still has a few years of elementary school to go. Literary fiction is my first love with a slight preference for books by women, but when my oldest son started reading books on his own, I would read them too. I wanted to get a feel for what he was reading and kind of keep an eye on content and difficulty. I discovered that I couldn't keep up with him pretty much right away. He used to finish a book a day in first and second grade! They were pretty short books, but still.
About a year and a half ago (fall 2014), I got a part-time job at a local library as a substitute clerk, also known as an Access Specialist I. Don't you just love fancy job titles? I am one of the few employees with school-age children, so I have taken it upon myself to become more familiar with middle-grade fiction in order to better serve our customers. What this means is that I started reading girl books too. The horrors! I had already enjoyed a teen book now and then, but I make a greater effort now to read more broadly. This year, I had a goal of reading all of the Missouri Association of School Librarians' nominees for their reader awards for grades 4 and up. I have read 11/12 of the Mark Twain nominees (grades 4-6), 11/12 Truman nominees (grades 6-8), and 11/15 Gateway nominees (grades 9+).
Anyway, so that's me.
What kind of books do you like to read?