As The Past opens, four siblings converge on an old house in the English countryside for a three-week vacation. The house once belonged to the grandparents, and they have to decide if they are ready to part with it. There are 3 sisters, Harriet, Fran, and Alice, and their brother Roland and his wife Pilar, Roland's 16-year-old daughter Molly, Fran's younger children Ivy and Arthur, and Alice's ex-boyfriend's 20-year-old son Kasim.
Most of the novel focuses on the present, but there is a section in the middle that tells of the time that their mother left their father and brought the siblings to stay at the house with her parents.
Not much happens throughout the novel. It is a novel of small happenings: quarrels, jealousies, memories, love, children's games, identity. Often when I read this kind of novel, I start to feel impatient, but that didn't happen to me with this book. I listened to the audio and perhaps that helped.
Anyway, I thought it was quite lovely and enjoyed getting to know all of the characters. 4 stars.
If you like this, you might also like Anne Tyler. (I've been trying to think of a good British example of a person who writes quiet, character-driven novels, but I am drawing a blank. Let me know if you think of a good one!)
The Sellout tells the story of an unnamed narrator who was raised in Dickens, a fictional impoverished agrarian neighborhood in the outskirts of south central Los Angeles. At least, that's where I think it is. As the novel opens the narrator is getting ready to have his case heard before the Supreme Court. He was arrested for trying to reinstitute segregation. The novel then travels back a few years to when the narrator's father has just died and Dickens has been wiped from the map. The narrator and his friend/childhood idol/slave Hominy Jenkins, a lesser known member of the Little Rascals, set out to bring back the town of Dickens.
Paul Beatty is a talented man. I think Sarah Silverman says it best in her jacket blurb, "The Sellout is brilliant. Amazing. Like demented angels wrote it." Yes, exactly. I can't say I loved it or understood it, but I definitely have a deep appreciation for it. (No, actually, in retrospect, I can say I loved it. It is one of those novels that grows on you as you gain distance from the sometimes frustrating experience of reading it.)
Just the depth of the cultural references and material that Beatty draws from is mind-bending. Seriously. Like my brain was a twisted lump when I finished reading.
In our "post-racial society", The Sellout is the best kind of brilliant social satire. 4.5 stars.
If you like this, you might also like Between the World and Me by Ta-Nehisi Coates.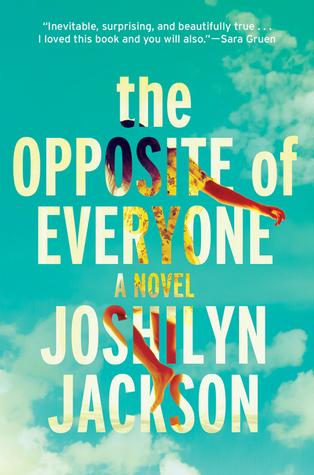 Paula Vauss is a lawyer, and she is good at what she does. Her ex-boyfriend/PI isn't speaking to her, but he is working for her again, and that's a start. When her mother returns the check she sent her and leaves a cryptic message, Paula begins having panic attacks. Then a stranger shows up at her office looking for her.
The novel is told in both present day and flashbacks to her unconventional upbringing. She was born while her mother was in prison and spent most of her childhood moving every few months from town to town with her mother until she is arrested again, and Paula goes into foster care.
I enjoyed this book. The audiobook is read by the author, and she does a good job. Joshilyn Jackson's fiction is light without being fluffy. 3.5 stars.
If you like this, you might also like Sarah Addison Allen or Ron Rash. Sarah Addison Allen's books include magical realism, but I think they deal with harder subjects with the same kind of touch as Joshilyn Jackson.
The rest
Salt to the Sea by Ruta Sepetys
Ruta Sepetys writes wonderful historical fiction YA. In her third novel Sepetys returns to WWII to tell the story of a group of travelers converging on a town on the Baltic in the closing months of WWII, hoping to flee the advancing Soviet army. Operation Hannibal was the codename of the German evacuation of personnel and refuges. It was one of the largest evacuations by sea in history. The chapters are written from the perspective of several different characters as they converge on the port of Gotenhafen (Gdynia). There is one character, a German soldier, that made me cringe every time a chapter came up that was written in his perspective, but he is an important representative of the people that were present for the operation.

Highly recommended.
4.5 stars.
Most Dangerous: Daniel Ellsberg and the Secret History of the Vietnam War by Steve Sheinkin
Sheinkin writes nonfiction for a young adult audience. Most Dangerous is about one of the first government whistleblowers. Daniel Ellsberg was a Department of Defense employee that became uncomfortable with what the government was not telling the American public about the war. He leaves his DOD job, spends 2 years in Vietnam, then gets a job working for the Rand Corporation. Through old Pentagon ties, he gets a copy of a secret report on Vietnam and decides that he needs to release the information in it.
Highly recommended. 4 stars.
The War that Saved My Life by Kimberly Brubaker Bradley
A girl with a clubfoot lives in London at the outbreak of WWII. Like many children of the time, she is sent to the country, where she and her brother are taken in by a childless woman in a small town in Kent. The girl's mother treated her horribly. In fact that's an understatement. The woman in Kent although not thrilled to be housing children is better.
It's a sweet, sentimental middle-grade novel. 3 stars.