This week, I finished several books. Here is a quick look at them.
NeuroTribes: The Legacy of Autism and the Future of Neurodiversity by Steve Silberman
I became interested in learning more about autism when my son befriended a boy who had been diagnosed with autism when he was little, but was no longer considered on the spectrum as he approached the teenage years.
NeuroTribes
got more into the history of the diagnosis and treatment of autism (and it's frequently horrifying) than I would have liked, but overall it was interesting. Also, I really need to read Oliver Sachs.
If you like this, you might also want to try Oliver Sachs,
An Anthropologist on Mars
, or one of Temple Grandin's books, although I personally have not read them. A book about a person with autism that I did read and found fascinating is
Born on a Blue Day: Inside the Extraordinary Mind of an Autistic Savant
by Daniel Tammet.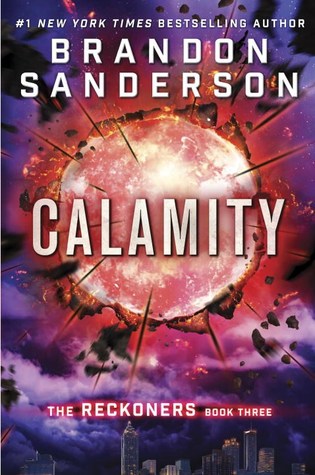 Calamity (The Reckoners, #3) by Brandon Sanderson
I tried to review this on Goodreads and failed miserably. I felt like the ending was kind of a letdown, and the run-up to it was chaotic and anticlimactic. But long action sequences were never my thing. Also, there were not enough bad metaphors from David. In fact, didn't one actually make sense??
Overall though I liked the series. I applaud Sanderson's world creation and inventiveness as far as the different abilities people manifested. Even though, here in Missouri, Steelheart (The Reckoners, #1) was nominated for a Gateway Readers Award, which is geared toward teens in grades 9-12, I feel like the series was appropriate for a slightly younger audience too. My seventh grader read and enjoyed all of the books, as did my husband.
If you like Calamity, you might also like The Paladin Prophecy by Mark Frost or either The Lorian Legacies by Pittacus Lore or Richard Paul Evans's Michael Vey series. I think another interesting choice might be Sanderson's own Mistborn series, but I haven't read them yet to gauge what age they are appropriate for.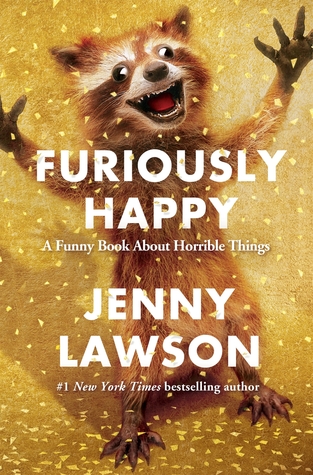 Furiously Happy: A Funny Book About Horrible Things by Jenny Lawson
If you've ever been depressed or anxious, I highly recommend Jenny Lawson's books. Lawson addresses her struggle with mental illness with honesty and a lot of humor. Great for anyone who has ever felt alone in their struggle. They can be a little raunchy at times and definitely irreverent. There are several vagina jokes and talk about her lady garden. If that offends you, you should probably skip her books.
I listened to
Furiously Happy
on audio. Jenny Lawson reads it herself, and she does a great job. It is nice to find someone who has even more outrageous conversations in her own head than I do and some of them out loud. If you have not read
Let's Pretend This Never Happened
, Jenny's first book, you should do so before you read this one. It's not a prerequisite, but it's mentioned often enough that it could be annoying if you haven't read it. If you need even more Jenny, you can also visit
her blog
. Jenny Lawson is a mental health warrior.
If you like Furiously Happy, you might also like Lawson's first book (duh!) or the wonderful book, Hyperbole and a Half: Unfortunate Situations, Flawed Coping Mechanisms, Mayhem, and Other Things that Happened by Allie Brosh.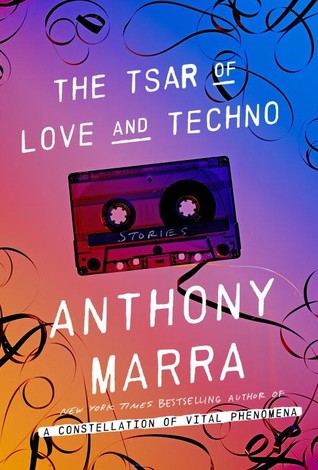 The Tsar of Love and Techno: Stories by Anthony Marra
The Tsar of Love and Techno is Marra's second book. His first was the phenomenal, A Constellation of Vital Phenomena, a novel which was set in Chechnya during the Chechen-Russian conflicts of the late 1990s and early 2000s. Although Chechnya figures heavily in Tsar, the stories here focus more on Russia and Russians. The main characters are a pair of Russian brothers from Kirovsk, a mining settlement in or near the Arctic Circle, and the nephew and grandnephew of a Russian censor.
Tsar is about family, love, brothers, the state, Russia and its people and government, getting by, not getting by, loss... In short, it's about human existence.
If you like this, you should read his first book (another duh!) or City of Thieves by David Benioff. I would really like to read more contemporary fiction set in the former Soviet Union, especially something by a Russian author.
This week, I also finished
Three Times Lucky
by Sheila Turnage and
The Sleeper and the Spindle
by Neil Gaiman. I enjoyed both of these books also.
Three Times Lucky
is one of my favorite JF book of the year so far and features a fun, plucky heroine and eccentric small-town cast.
The Sleeper and the Spindle
by Neil Gaiman defies easy categorization, but is a good representation of its author and an interesting twist on a couple fairy tales.